Update: Light on weight and heavy on graphics, the Gigabyte Aero 14 may not be the one of the most potent gaming laptops in terms of battery life. But, at a competitive price point that gives Razer and Alienware a run for their money, it's well worth the negligible compromise. Read on to number 4 to find out more!
You want a powerful gaming computer, right? Sure, a rigorous machine that can handle any game at max settings, outperforming the latest consoles would be cheaper to build. But that's a daunting, and frankly unnecessary, task for anyone more interested in playing games than tinkering with hardware.
A gaming laptop is exactly what you want when you want it. You don't have to replace parts individually when one is acting up; in fact, you don't even have to buy a monitor, a mouse or a keyboard. Your entire gaming setup is immediately is joined into a single device, free to travel wherever you do.
For a decent gaming notebook, you're looking at an expenditure around $1,000 (around £800, AU$1,400) minimum. To experience the best PC games at the highest resolutions and frame rates, you can expect to fork over significantly more. That's assuming, though, that the games are optimized for the hardware of your choosing.
Fortunately, the barrier of entry for high-end gaming is getting lower. The system requirements for VR have dropped significantly since the launch of the Rift while VR-ready graphics cards like the GTX 1060 cost but a fraction of their last-gen equivalents.
In this article, we've delivered our impressions on the 10 best gaming laptops spanning various brands and budgets. These are the best gaming laptops you can buy in 2017. Not one is perfect, but each entry on this tidily upheld list is high-specced and ready to conquer the hell out of your crowded Steam library.
1. Asus ROG Strix GL502
It's hard not to love a gaming laptop this good
CPU: Intel Core i7 | Graphics: Nvidia GeForce GTX 1060 – 1070 | RAM: 16GB DDR4 | Screen: 15.6-inch full HD 1,920 x 1,080 IPS | Storage: 128GB – 256GB SSD, 1TB HDD
Rocks Full HD gaming
Deliciously vibrant screen
Middling battery life
The Asus Strix GL502 may not boast the most innovative design, swapping out the usual black and red color scheme for one that makes it feel like Halloween year-round. But, it's undoubtedly one of the best when it comes to gaming in 1080p. In fact, we were able to crank the settings all the way up in Overwatch without taking a hit below 60fps. The battery life is janky, sure, but the screen, performance and onboard sound system more than make up for it.
Read the full review: Asus ROG Strix GL502
2. Alienware 13 R3
Gawk at the first-ever OLED gaming laptop
CPU: Intel Core i5 – i7 | Graphics: Nvidia GeForce GTX 1060 | RAM: 8GB – 16GB DDR4 | Screen: 13.3-inch HD 1,366 x 768 TN – QHD 2,560 x 1440 OLED touchscreen | Storage: 180GB – 512GB SSD
Gorgeous OLED screen
Improved hinge-forward design
Unexpectedly dense
Short battery life
Unlike most laptops its size, the Alienware 13 R3 bears a hinge-forward design. By moving the heatsinks usually located beneath the keyboard to a distinct bulge that projects outward behind the screen, it allows for a thinner, 0.81-inch (0.22cm) chassis. Unfortunately, this means you won't find many 13-inch laptop bags that will actually suit the Alienware 13 R3; rather you'll likely have to opt for a 15-inch carrier. The real draw, however, isn't the Alienware 13 R3's protruding appendage or even its impressive quad-core, H-class CPU. While you may be tempted by the inclusion of a full-size Nvidia GeForce GTX 1060, it's the OLED touch display that caught our attention. The flavorful color gamut puts practically every other laptop on the market to shame.
Read the full review: Alienware 13 R3
3. HP Omen 17
A premium desktop replacement sans the premium cost
CPU: 6th gen Intel Core i7 | Graphics: Nvidia GeForce GTX 1070 (8GB GDDR5); Intel HD Graphics 530 | RAM: 16GB DDR4 | Screen: 17.3-inch 4K (3,840 x 2,160) IPS with G-Sync | Storage: 1TB – 2TB HDD, 128GB SSD
Affordable price
4K, G-Sync Display
Plastic-y build
Large physical size
Like the GameCube of laptops, the HP Omen 17 has the build quality of a children's toy. However, when you see what it can do, you'll wonder why it didn't cost more. At 7 pounds, you'll have to forgive the weight of the HP Omen 17 if you want to benefit from its 17-inch Quad-HD display. Of course, although the GTX 1070 is more of a 1440p performer than a 4K one, you can still expect a consistent 30 fps in games like The Division at the highest graphical settings. Overall, the HP Omen 17 is HP's Gigabyte P57X equivalent, but with Bang & Olufsen speakers that might tip you over the edge.
Read the full review: HP Omen 17
4. Gigabyte Aero 14
An Ultrabook that's first-rate in performance and value
CPU: Intel Core i7 | Graphics: Nvidia GeForce GTX 1060 (6GB GDDR5) | RAM: 16GB – 32GB | Screen: 14-inch, QHD 2,560 x 1,440 anti-glare IPS | Storage: 512GB – 1TB SSD
Lightweight and thin design
Competitively priced
Battery life under-delivers
Loaded with bloatware
Donning a 7th-generation Intel Core i7 processor, Nvidia Pascal-series GPU and a screen resolution that soars above 1080p, this laptop is more affordable than a comparably specced Razer Blade or Alienware 13 R3. At the same time, it neglects to compromise in terms of portability and performance. This is a laptop, for instance, that weighs a mere 4.17 pounds (1.89kg) and measures in at 0.78 inches thin, undeniably a feat for a gaming machine. Factor in the 3 hour and 38 minute PCMark 8 battery test and 190-degree hinge, and it's easy to see why the Gigabyte Aero 14 made the cut.
Read the full review: Gigabyte Aero 14
5. Razer Blade
CPU: 2.6GHz Intel Core i7-6700HQ | Graphics: Nvidia GeForce GTX 1060 (6GB GDDR5 VRAM) | RAM: 16GB | Screen: 14-inch FHD (1,920 x 1,080) – QHD+ (3,200 x 1,800) IGZO (LED backlit, multi-touch) | Storage: 256GB – 1TB PCIe SSD
Impressive battery life
Thunderbolt 3 a smart add
Fans whir loudly under load
Limited upgrade options
For many gamers, Ultrabook is a four-letter word, but it doesn't have to be. The first time you get your hands on a Razer Blade, you'll be looking at a battery life of 3 hours and 35 minutes in-game (or six hours of non-stop video). While you could argue it does skimp as far as graphics are concerned, with the help of a Razer Core external GPU enclosure, you can strap an Nvidia Titan X inside if you want.
Read the full review: Razer Blade
6. Aorus X5 v6
High power and a low profile with few concessions
CPU: Intel Core i7 | Graphics: Nvidia GeForce GTX 1070 (8GB GDDR5) | RAM: 8GB – 16GB | Screen: 15.6-inch, FHD 1,920 x 1,080 – WQHD+ 2,880 x 1,620 IPS | Storage: 1TB HDD; 256GB SSD
Powerful performance
Slim design
Noisy fans
Build quality issues
You may not be as familiar with Aorus as you are with many of the other contenders on this list. That said, the company makes a damn fine gaming laptop with relatively subdued designs to boot. The Aurorus X5 v6 in particular comes in an all-black finish with a GTX 1070 powerhouse under the hood. Connected to a 144Hz external monitor, the Aorus X5 v6 can handle Overwatch at up to 120 fps on Ultra. When it's not wowing you with its internal capabilities, it's doing so with its 15-inch, 3K resolution display. Though its fans make it sound like a helicopter about to depart, and the build quality isn't exactly ideal, the Aorus X5 v6 averts gaudy color schemes in favor of sheer horsepower.
Read the full review: Aorus X5 v6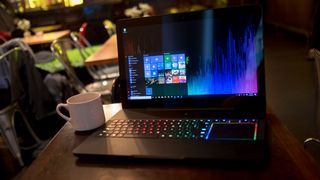 7. Razer Blade Pro
Finally, a desktop replacement with portability in mind
CPU: Intel Core i7 | Graphics: Nvidia GeForce GTX 1080 (8GB GDDR5) | RAM: 32GB | Screen: 17.3-inch, UHD (3,840 x 2,160) IGZO touchscreen with G-Sync | Storage: 512GB – 2TB PCIe SSD
Starboard trackpad placement
A desktop experience you can finally carry
Off-putting price
Less than 5 hours of battery life
At long last, Razer has introduced a laptop that can not only replace your desktop, but do so without packing on more weight than most large laptops. It's expensive, yes – it certainly won't save you money when compared to building your own PC. On the other hand, it measures in at only 0.88-inches thick with an onboard 17-inch, 4K multi-touch display and a built-in Wi-Fi card. If that's not enough to sell you on it already, the Razer Blade Pro also introduces the company's Ultra-Low-Profile Mechanical switches to a notebook for the first time ever. These keys bear an appearance similar to your run-of-the-mill chiclet keyboards, but press down on them yourself and you'll feel (and hear) the authentic click of a mechanical keyswitch. It's an experience bettered only by its unusual trackpad placement, which feels so natural for gaming that you'll wonder why it wasn't there to begin with.
Read the full review: Razer Blade Pro
8. Origin EON17-X
With great power over price comes great responsibility
CPU: Intel Core i5 – i7 | Graphics: Nvidia GeForce GTX 1060 – 1080 | RAM: 8GB – 64GB | Screen: 17.3-inch, FHD (1,920 x 1,080) – QFHD (3,840 x 2,160) Matte Display with G-Sync | Storage: 120GB – 2TB SSD, 500GB – 2TB HDD, 1TB – 2TB SSHD
Keyboard offers deep travel
4K media mastery
Annoying trackpad
Tiny fingerprint reader
With the introduction of the Nvidia's Pascal architecture, we've finally seen laptops like the Razer Blade Pro take on doubles lives as desktop PCs. The Origin EON17-X follows suit with a 4K display and a GPU that can handle the heat, all for a significantly lower starting cost. It doesn't come with the dead silent mechanical keyboard, but it flaunts one that is tactile nonetheless. While it's undoubtedly the most powerful laptop we've used to date, it's also among the most expensive. Considering the battery life maxes out at a dastardly 1 hour and 54 minutes, according to our own movie test. That's a far cry from the Razer Blade Pro, which managed close to 4 hours. Otherwise, it's perfectly outfitted for that place on your desk where your desktop would be – if you had the space.
Read the full review: Origin EON17-X
9. Acer Predator 17 X
Proof the GTX 980 is far from dead
CPU: Intel Core i7 | Graphics: Nvidia GeForce GTX 980 | RAM: 32GB DDR4 | Storage: 1TB HDD, 512GB SSD
Loaded to the max with features
Relatively quiet cooling fans
High price for last-gen GPU
Extremely long battery recharge time
The Predator 17 X isn't the kind of laptop you would take to a coffee shop on a Tuesday afternoon to catch up on assignments. Unless you don't mind lugging around a bulky power brick and a 10.03-pound (4.67kg) computer, this is a notebook best left at home. The Predator 17 X is, however, one of the most well-rounded gaming laptops. A desktop-class Nvidia GeForce GTX 980, for instance, is built into the base of the machine, making it (just barely) capable of gaming in 4K. This is a smart move considering that, if you shell out a bit more cash over the base model, the 17 X boasts an Ultra HD display, complete with G-Sync functionality. Paired with more than enough ports to get the job done, the Acer Predator 17 X is well worth the steep asking price, even if it does take three-and-a-half hours to charge.
Read the full review: Acer Predator 17 X
10. Origin EON17-SLX
The ultimate gaming laptop built with desktop-grade power
CPU: Intel Core i5 – i7 | Graphics: NVIDIA GeForce GTX 1070 – 1080 | RAM: 8GB – 64GB | Screen: 17.3-inch, FHD (1,920 x 1,080) – UHD (3840 x 2160) IPS Matte Display with G-SYNC | Storage: 120GB – 4TB SSD, 500GB – 1TB HDD, 1TB SSHD
Nearly unrivaled performance
Sharp, aggressive styling
Awful battery life
Astonishingly heavy
The Origin EON17-SLX gives new meaning to portability. This 17-inch notebook combines the power of a desktop-grade Intel processor and an Nvidia GPU, making it one of history's most powerful mobile machines. Of course, it comes with the sacrifice of portability in both weight and battery life. If these are worthy trade-offs for greater performance, you won't find a better machine whether you're a hardcore gamer or a media creator.
Read the full review: Origin EON17-SLX